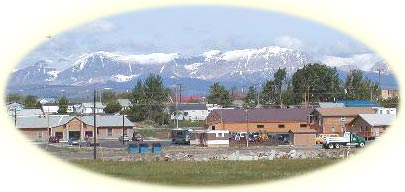 Blackfoot Community College
in Browning, Montana
Blackfeet Community College
www.bfcc.org/
It is the mission of Blackfeet Community College to provide transfer equivalent academic and relevant vocational programs of high quality that lead to appropriate associate degrees and certificates.
Further, the College provides a core of general education instruction that results in identifiable student competence in written and oral communication, quantitative reasoning, critical analysis and logical thinking, with literacy achieved in the discourse or technology appropriate to the student's program of study.
Because of the changing nature of the demands placed upon members of the Blackfeet Tribe in today's tribal society and beyond, the College maintains a strong commitment to providing opportunities for life-long education including basic skills development, high school completion, GED, continuing education and high quality community service programs. This commitment to serve the needs of the Blackfeet Tribe includes electronically-accessed distance learning.
Finally, and most importantly, it is the mission of Blackfeet Community College to serve as a living memorial to the Blackfeet Tribe, in preserving the traditions and culture of a proud and progressive people.


Red Crow Community College
near Standoff, Alberta, Canada.
Red Crow Community College
http://www.redcrowcollege.com/
Red Crow College's mission is to give education and training opportunities to adult Native and non-native residents and employees of the Blood Reserve and surrounding areas in Alberta. They believe that cultural identity is essential for Native North Americans. The college is a member of FNAHEC, whose purpose is to provide quality adult and higher education, controlled entirely by people of the First Nations.
Old Sun Community College
Old Sun Community College in Calgary, Alberta hopes to develop and offer quality courses, programs and services for the Siksika Nation and individuals as well as to preserve the Siksika way of life. This school is also a member of FNAHEC.
Piikani Postsecondary Adult & Career Center
No website available for this education facility, for more information see contact possibilities below.
P.O. Box 130
Brocket AB TOK OHO
Tel: (403) 965.3910
Fax: (403) 965.3713